Is Blue Bloods Based On A Real Family? Here's What We Know
CBS
Since making its network debut in 2010, "Blue Bloods" has continued to captivate television viewers with its sprawling tale of one family's extraordinarily deep ties to New York law enforcement. And there's little question it will continue to do so as long as it is on the air. Since the series' early days, however, fans of the procedural drama have been seeking an answer to one single question: Is "Blue Bloods" based on a real New York family, or is it merely the work of a talented crew of television creators?
On paper, that should be a very easy question to answer, particularly since "Blue Bloods" has been on the air now for 13 full seasons. As it happens, the question of whether or not the series is based on a real-world family remains complicated, to say the least. To be clear, there is no actual Reagan family boasting a member in virtually every facet of the legal system in the city of New York. So at the end of the day, "Blue Bloods" is officially a work of small-screen fiction. But depending on who you talk to, there may be some real-world inspiration at work in its narrative. 
Blue Bloods is most likely a mix of both fiction and reality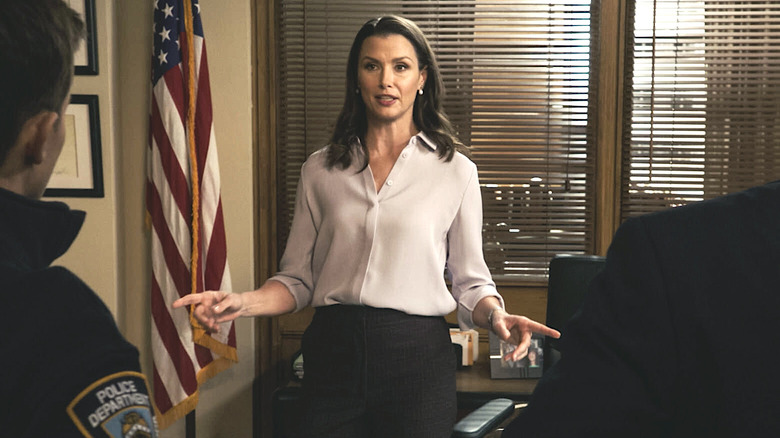 CBS
As for the fictional nature of "Blue Bloods," there's apparently been some debate about the series' influences over the years as well. The series was, of course, created by husband-wife duo Mitchell Burgess and Robin Green, who penned the original screenplay for the pilot episode themselves. It seems the overarching stories in "Blue Bloods" contains certain similarities to a 2004 novel by Edward Conlon, including an arc about a Harvard grad returning home and joining the NYPD. Based largely on his own experiences in the NYPD, Conlon's novel just so happens to be titled "Blue Blood."
A script based on the book was actually commissioned by NBC in 2007, and Brett Ratner was reportedly slated to direct and executive produce the pilot. The network ultimately passed on picking up the series, however, and it's safe to assume CBS never had a chance to read the script. Narrative similarities aside, when "Blue Bloods" debuted on CBS in 2010 the network itself published a piece about the Baumeisters, a family of New Yorkers largely employed by the NYPD. It should be noted that the article makes no claims that the Baumeisters are the inspiration for "Blue Bloods," though the family themselves are apparently fans of the show.
In the end, it seems the true inspiration behind the hit CBS series is fated to remain a mystery even Detective Danny Reagan (Donnie Wahlberg) couldn't crack. And with "Blue Bloods" likely nearing the end of its primetime tenure, discussions regarding the official hows and whys of the series coming to be may well end with it.