Hollywood Strikes: Dune 2 & Other Warner Bros. Tentpoles May Get New Release Dates
Warner Bros. Discovery
Now a unified front on the picket line, the Writers Guild of America and the Screen Actors Guild – American Federation of Television and Radio Artists continue to fight the good fight against low wages, poor working conditions, and the unethical use of artificial intelligence. The Alliance of Motion Picture and Television Producers has yet to reach a fair deal with the two unions, meaning that there's no end in sight for their strikes. Thus, it's no surprise that studios are shuffling their release schedules around as the situation continues to unfold.
In a report by Variety on July 20, it came to light that Warner Bros. Film Group, in particular, is considering shifting release dates around for some of its biggest upcoming titles. Chief among them is the Timothée Chalamet and Zendaya-led "Dune 2" from director Denis Villeneuve, which could move from its November 3 spot to somewhere in 2024. Delays for "The Color Purple" and "Aquaman and the Lost Kingdom" are also reportedly on the table, though it remains to be seen what Warner Bros. higher-ups will choose to do with these big-name projects.
For those out of the loop with the WGA strike and the more recently launched SAG-AFTRA strike, you're probably wondering why complete or near-complete projects would be delayed in the first place. The answers lie predominantly in SAG-AFTRA's union strike rules.
Strike rules have largely prompted these release date changes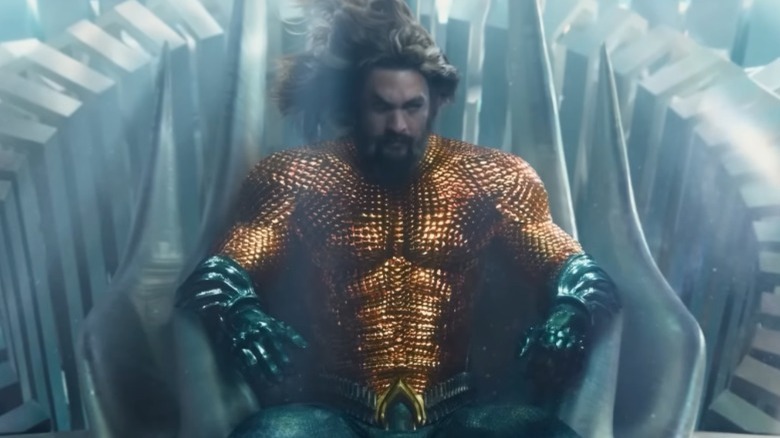 Warner Bros. Discovery/DC
Arguably the most important driving force behind studios electing to delay completed or near-completed projects comes down to promotion. Under SAG-AFTRA strike rules, those within the union can't go around promoting their latest endeavors. Therefore, studios aren't going out of their way to start advertising upcoming releases without the stars of said releases unavailable to do press interviews, talk show appearances, convention visits, and the like. That's why so many tentpole films from across Hollywood have been moved around as of late.
For evidence of this rule in effect, look no further than San Diego Comic-Con. Those particularly attuned to the pop culture scene likely noticed that the event is a bit barren this year. The likes of Marvel Studios, Lucasfilm, Universal Pictures, and more haven't gone all-out with reveals, panels, trailers, and all of the usual things they bring to the event every year to get fans hyped. With no one available to plug these upcoming movies and TV shows, it's not in their best interest to make much of an effort to try and promote them.
One can only hope these productions will arrive sooner rather than later and that San Diego Comic-Con will be more exciting in 2024. Much more importantly, though, hopefully, this time next year, the writers and actors on strike will have had their demands met long ago, their pay increased, and their treatment improved.