Barbenheimer Box Office: Barbie Expected To Double Oppenheimer's Opening Weekend Haul
Warner Bros. Pictures
"Barbenheimer" may be the cinematic rivalry of the year, but there's already one early winner at the box office.
According to early projections, Greta Gerwig's "Barbie" is set to bank as much as $110 million at the domestic box office this weekend — more than doubling the solid $50 million haul projected for Christopher Nolan's "Oppenheimer." The Margot Robbie–Ryan Gosling starrer is already outpacing Disney's live-action "The Little Mermaid" remake in terms of presales (which is currently the fourth highest-grossing film of 2023) and is poised to give a much-needed boost to Warner Bros.' recent superhero woes against a manageable budget of $145 million.
On the other hand, "Oppenheimer" (featuring a baffling cast including Cillian Murphy, Robert Downey Jr., and Emily Blunt) is marching against an equally modest budget of $100 million. "Dunkirk" — another historical drama set against World War II and Nolan's last pre-pandemic release – opened to $50 million in 2017 and went on to rake in well over $500 million worldwide. However, "Oppenheimer" faces the unique self-imposed challenge of its three-hour runtime, dwarfing both "Dunkirk" and "Barbie's" sub-two-hour runtimes. Longer movies have fewer chances for repeat theatrical screenings, which usually means fewer ticket sales. Add in "Oppenheimer's" R-rating and its box office projections become a bit clearer.
While there will apparently be a vast financial disparity between the two highly-anticipated pictures, "Barbenheimer" hopefuls venturing to their local theater for a double feature this weekend will be delighted to know that they're both receiving extremely positive reviews.
Barbenheimer is a critical hit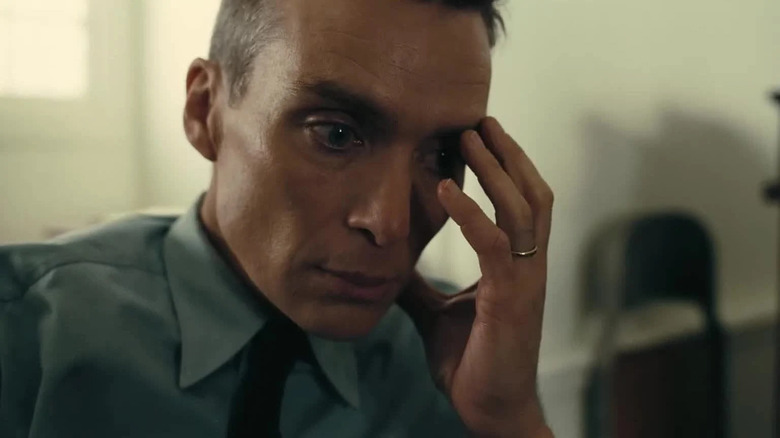 Universal Pictures
According to the online review aggregator Metacritic, "Barbie" and "Oppenheimer" have both received universal acclaim. The latter received a score of 90 out of 100, making it Christopher Nolan's best-reviewed feature on the site since "Dunkirk." For Greta Gerwig, "Barbie" is actually her second-worst-reviewed film as a director at 81, with "Little Women" and "Lady Bird" coming in at 91 and 93 respectively. That's a pretty strong testament to her consistency as an artist. On Rotten Tomatoes, "Barbie" and "Oppenheimer" are both certified fresh at 89% and 93%, respectively, as of this writing.
With such positive word of mouth, it's entirely possible that either or both films will exceed their box-office projections. That said, last week's big release "Mission: Impossible – Dead Reckoning Part One" failed to meet its own box-office projections despite stellar reviews, raking in just $56 million after aspiring to as much as $85 million. It's a devastating blow to the latest death-defying Tom Cruise release, considering it cost north of $300 million to make and is now in direct competition with two of the biggest films of 2023. While the studios behind all three will likely spend the week fighting for their piece of the box-office pie (ironically while simultaneously trying to unite against the WGA and SAG-AFTRA strikes), moviegoers can at least enjoy the embarrassment of riches in cinemas right now.