Oppenheimer Vs. Barbie - Why The Box Office Winner Matters Less Than You Think
Static Media
Nobody loves the cinematic experience more than Christopher Nolan, which is why the British filmmaker made headlines in 2021, swiping left on Warner Bros. and leaving behind the studio he'd called home for two decades. It was the company's decision to send its 2021 theatrical slate to HBO Max, combined with their handling of the "Tenet" release, which made the director jump ship. Nolan found himself courted by Universal Pictures, who let him set up shop with "Oppenheimer" — a $100 million, three-hour-long biopic on J. Robert Oppenheimer, the father of the atomic bomb. They dated the film for July 21, 2023.
Warner Bros. lost an auteur in Nolan, but found a superstar in Greta Gerwig, who received an Oscar nod for spearheading 2019's "Little Women" adaptation, emerging as one of Hollywood's most sought-after creatives. Margot Robbie, handed the titular role in the long-gestating "Barbie" film, roped in Gerwig to spearhead the Warner Bros. film. A subversive and meta take on the iconic Mattel doll, Gerwig assembled an all-star cast and $100 million budget for her "Barbie" flick. Warner bros. Dated the film for ... well, July 21, 2023.
As the months went by, it became increasingly clear: neither film was going to budge. And so began the start of a healthy rivalry, with the conversation shifting to who the winner would be. While "Barbie" and "Oppenheimer" are both poised to make an atomic pink splash at the box office, here's the truth behind the memes: it doesn't matter who rakes in the most, because audiences are the ones who'll be winning. 
In a summer filled with commercially and critically disappointing reboots and notalgia-driven sequels, "Oppenheimer" and "Barbie" are a nuclear-sized breaths of fresh air that should bring new oxygen to the box office.
Oppenheimer is poised to be another winner for Nolan
"Oppenheimer" is one of the more ambitious films to be released in cinemas this year. For the "Interstellar" filmmaker, "Oppenheimer" is a daring rumination on one of history's most polarizing figures, and the impact of his actions. With a lengthy runtime, an R-rating, and a leading player in Cillian Murphy, Universal Pictures took a risk giving Nolan carte blanche, but it's one that will pay off long term. Every studio wants to be in business with Nolan, one of the few directors who can still create original works and bring out audiences in droves — "Dunkirk" and "Interstellar" casually raked in half a billion dollar grosses without relying on IP. It's also a film that's made for adults — a rarity these days.
The hype for "Oppenheimer" is breaking the radiation meter. Early tracking has the film opening to over $45M, with a liberal estimation being north of $50M. It's not Nolan's best, but it's in line with "Interstellar's" $47M debut, which legged its way up to a $188M domestic total. But the reality is that "Oppenheimer" wouldn't be debuting to such a great number if it wasn't directed by Nolan. The British creative has proven that he's one of contemporary cinema's most brilliant, yet accessible filmmakers, delivering hits that resonate with audiences around the world.
Nolan himself is a brand, which is exactly why Universal ponied up $100M for a biopic on one of the most miserable men to live. It also helps that "Oppenheimer" will dominate IMAX screens for three weeks — shortening "Mission: Impossible — Dead Reckoning Part One's" run to just 10 days. If "Oppenheimer" can compel early viewers with its spectacle and build up positive word of mouth, we're looking at a solid $110M+ domestic play.
Barbie will win the weekend
Sorry Oppenheads, but it looks like "Barbie" will be the box office champion. Hype for Greta Gerwig's pinkathon is through the dollhouse roof, with early tracking suggesting the film could open north of $90M. Realistically, there's an extremely strong chance that the film could beat those initial estimates and open above $100M, giving it one of the summer's loudest debuts. For Warner Bros., this is a much-needed win after a disastrous year plagued by film cancelations, rebranding a streaming service, a disastrous box office bomb in the form of "The Flash," and general public scrutiny towards CEO David Zaslav.
But the credit shouldn't go to Warner Bros. for allowing Margot Robbie and Gerwig to let their imaginations run wild. In fact, the company, which is currently in the midst of selling off its iconic music publishing assets to get a boost in revenue, should feel privileged that Robbie and Gerwig are giving the studio such a monster hit. The two have put in the work, zoning in exactly on the public's perception of "Barbie," strategically amplifying it to create a marketing campaign that's too large (and pink) to ignore. From a global, paint-the-town-pink tour, to Barbie-themed Crocs, and a pink convertible-designed popcorn bucket — the duo's vision of a glitzy world filled with disco and positive vibes is coming to life in the best way possible.
And audiences are obsessed. The Barbierians are selling out early fan screenings, aptly titled Blowout Parties, where there'll be enough glasses of Cosmopolitans to fill the Nile. Domestically, "Barbie" could very well hit $270M if it can sustain its momentum and boast incredible word of mouth. For a meta and extremely stylistic take on a doll, that's not too shabby.
Barbenheimer has the world talking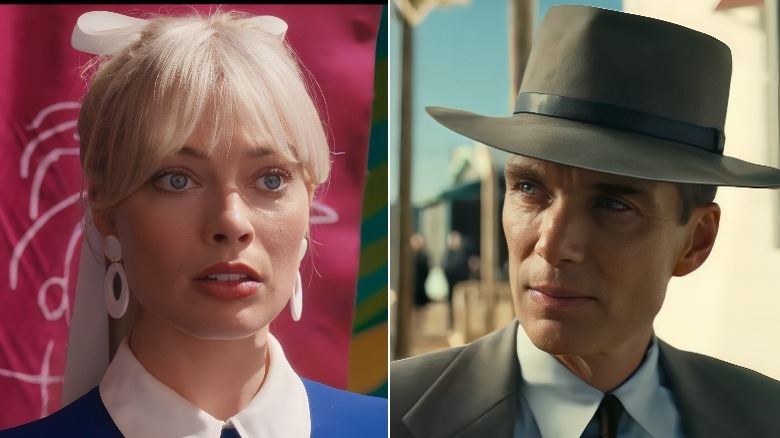 Universal Pictures/Warner Bros.
As exciting as it is to have a clear winner ahead of the dual "Oppenheimer" and "Barbie" release, it's important to note that the box office is just a small part of their success. Perhaps the most interesting thing about these two dueling cinematic gladiators is how the internet has rallied behind both of them, dubbing the July 21 event as "Barbenheimer," a phenomenon that literally has its own Wikipedia page.
Take to social media, and all corners are obsessed with how the two drastically different films are opening against one another. In an era where toxicity and fanboys seem to dominate the conversation, the opposite is happening with the release of "Oppenheimer" and "Barbie," with viewers rallying together to support both films. Christopher Nolan and Greta Gerwig, who exist on opposite spectrums of the cinematic landscape, have their fair share of hardcore fans, but there's little to no animosity. Instead, watching both films back-to-back is being treated like the social event of the season — a double feature that just can't be missed. Even theatergoing's number one champion Tom Cruise says openly that he plans to watch both back-to-back. Perhaps the most heated conversation to manifest out of this event is viewers arguing over which film they'll see first. For those who are terminally online, refusing a "Barbenheimer" double feature is like showing up to "Minions: The Rise of Gru" without wearing your best suit.
From a financial perspective, this relationship between the two is brilliant, as it's free marketing for both, fueled by memes and debates about which will be better. At first, it seemed as if the two would cannibalize one another but as the days go by, it becomes increasingly clear that they'll elevate one another because of the chatter surrounding their competition.
The box office desperately needs Oppenheimer and Barbie's dollars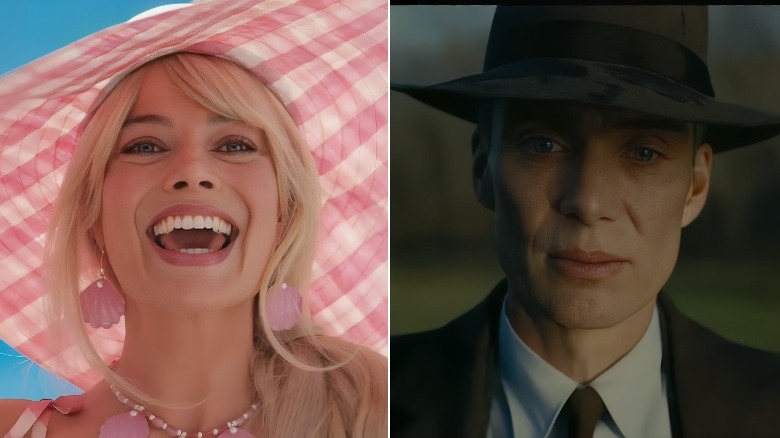 Universal Pictures/Warner Bros.
While this year's box office numbers are about 20% higher than 2022's, profits still haven't touched pre-pandemic levels. 2023 started off promising with hits like "M3GAN," "Creed III," and "John Wick: Chapter 4," but it's been an exceptionally cruel summer riddled with bombs and disappointments. While audiences aren't completely rejecting the 2023 summer slate, the results have been exceptionally disastrous, especially when it comes to IP-related projects. 
"Indiana Jones and the Dial of Destiny" will likely bow out of cinemas with a domestic haul of less than $150M, less than half of what "Kingdom of the Crystal" roped in back in 2008. "The Flash," meanwhile, will barely race past $125M, stumbling as it tries to cross the finish line. Both films are bombs. And while it doesn't boast the worst circumstances, Disney's live-action remake of "The Little Mermaid" should have easily made north of $325M domestically — its total stands at a decent $285M.
It has not been a good summer, with theatres and studios desperately seeking a win. Here comes "Barbie" and "Oppenheimer," two drastically different films, that are on track to give the box office the sigh of relief it desperately deserves. "Barbie" could have easily been a cheaply made tie-in film that coasts by on name recognition alone, but audiences are genuinely interested in the commentary Greta Gerwig has on the brand. They're curious about the film's surreal, subversive narrative, and invested in its throw-everything-at-the-wall marketing. As for "Oppenheimer," it's Nolan's goodwill that will push the R-rated biopic to a sizable domestic total.
"Barbie" and "Oppenheimer" aren't just counterprogramming to each other — they're counterprogramming to Hollywood's boring and rote offerings. The real winner won't be determined by the winner at the box office, but rather by which flick has the most cultural impact.
Hollywood should take notes from Oppenheimer and Barbie's pre-release hype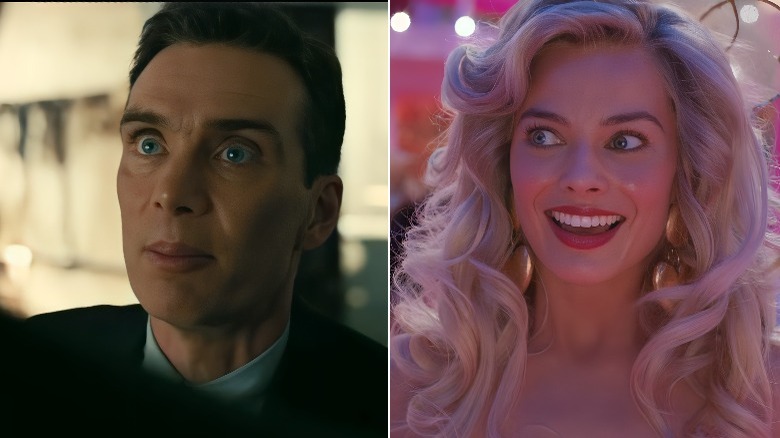 Universal Pictures/Warner Bros.
Studios seem to have taken advantage of audience members, who have proven that they can subliminally pick up on trends and conditioning with ease. During the pandemic, audiences were conditioned to see Disney and Pixar films debut on Disney+ — and now, they've refused to show up for the theatrical releases of "Lightyear" and "Elemental," two films that should have easily posted $700M+ global totals. Similarly, they're exhausted by the barrage of soulless blockbusters and legacy sequels, realizing that these films will hit streaming sooner, rather than later.
But this sentiment can also be flipped, with audiences being receptive to positive trends. Horror films have made huge gains at the box office, with "Scream VI," "Evil Dead Rise," and "Smile," posting exceptionally solid grosses. If Hollywood can learn the right lessons from the audience's fascination with horror, they can learn from "Oppenheimer" and "Barbie" even before they hit cinemas. These are two films that are garnering more hype and attention than beloved characters like Indiana Jones or Dominic Toretto. 
"Oppenheimer" is a film made for adults that's being sent to cinemas, a rarity in a world where "prestige" films like "All Quiet on the Western Front" and "CODA" had no choice but to debut on streaming services. The success of "Oppenheimer" should compel studios to take larger risks. "Barbie," meanwhile, is doing its darndest to let its viewers know it's not a cash-in, run-of-the-mill adaptation of a beloved property — it's doing something different. Hollywood should pay attention to how Greta Gerwig is taking IP and going in a bold new way with it. 
Hopefully, "Oppenheimer" and "Barbie" allow Hollywood to take larger risks, which in turn makes the box office (and cinematic landscape) all the more exciting.