Why Aquaman 2 Has Had Three Rounds Of Reshoots In Just One Year
It's not an easy time to be a DC Universe fan.
With the cancellation of "Batgirl," an uncertain future following the hiring of James Gunn and Peter Safran as co-heads of DC Studios, and a yearlong string of bombs in the record books for 2023, there are only two more films for fans to look forward to before Gunn leads a reboot of the universe with "Superman: Legacy" in 2025. Aside from "Blue Beetle," which will bow on August 18, there's "Aquaman and the Lost Kingdom," which is set to be a major Christmas season tentpole for the studio on December 20.
The production of "Aquaman and the Lost Kingdom" has been fraught with shakeups, which, per The Hollywood Reporter, has ultimately resulted in three sets of reshoots. From executive changes to differing expectations from DC's higher-ups to negative test screenings, there have been a number of delays that have resulted in the film's release being pushed back from December 2022 to December 2023. But a fresh set of reshoots have the studio optimistic that things might turn out well after all.
A new head of DC Films meant a new direction
"Aquaman and the Lost Kingdom" has been so long aborning that it has managed to survive through three regime changes at DC Studios. That, naturally, means that each set of execs wanted different things from the property. The sequel was greenlit by Toby Emmerich, former head of the Warner Bros. film department. Principal shooting was overseen by Walter Hamada, who served as the head of DC Films under Emmerich. Both men departed as "Aquaman And the Lost Kingdom" was undergoing test screenings. 
Those test screenings resulted in two sets of reshoots greenlit by Emmerich and Hamada's replacements, Michael De Luca and Pamela Abdy, as well as new Warner Bros. Discovery CEO David Zaslav. The Hollywood Reporter noted that Abdy, in particular, was hands-on with the sequel and oversaw a new cut, but her version did even worse with test audiences than the Hamada one. When James Gunn and Peter Safran entered the picture, a third set of reshoots were greenlit, which spanned five days — and have apparently pleased all involved. Unsurprisingly, each set of executives wanted something unique from the material that each previous cut didn't have — take the way Michael Keaton's version of Batman was used in each proposed cut of the film.
Different producers wanted different things from different characters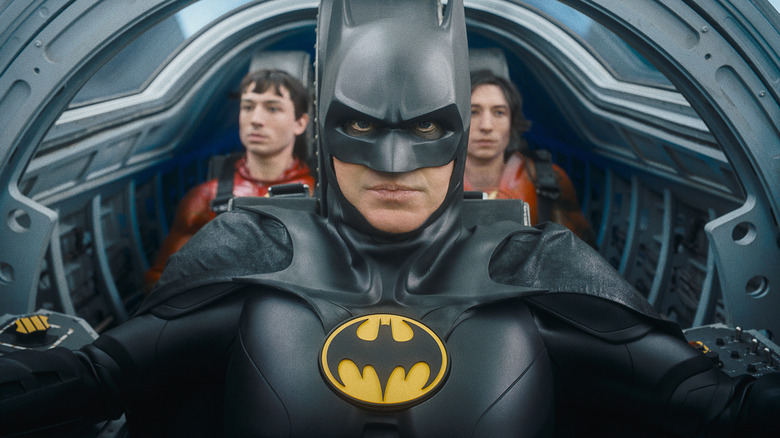 Warner Bros. Pictures
With three sets of executives looking for different reactions from audiences and hoping to capitalize on different plot points with its marketing campaign, it's not shocking that "Aquaman and the Lost Kingdom" ended up going through repeated reshoots. Regardless of whether or not that means there are too many fingers in the film's pie, The Hollywood Reporter confirmed that each set of executives seemed to want something different from the characters featured in "Aquaman And the Lost Kingdom."
To wit: Walter Hamada wanted to use Michael Keaton's version of Bruce Wayne not just in the second "Aquaman" film, but across DC's slate of movies as a sort of guide and leader for the younger generation of heroes. Unfortunately, the ever-shifting quicksand of DC Films resulted in a skewed timeline. Under the Michael De Luca and Pamela Abdy regime, reshoots involving Ben Affleck's take on Wayne/Batman were filmed to make it more harmonious with its place in the extended DC world. 
However, it appears that none of this material will make it into the final version of the film, as James Gunn and Peter Safran didn't want to build a story promising the continuation of a universe that's set to die. While that means a lot of the film's original plot has been changed, at least those missing moments might make for fun deleted scenes. But when you add these internal conflicts to the burden already shouldered by overworked VFX houses, you end up with a movie that keeps getting pushed back from its original debut date.
Negative test audiences mean major reshoots
"Aquaman and the Lost Kingdom" has also been shaped by repeated sets of test screenings. The Hollywood Reporter declared that several of these screenings have resulted in audience displeasure, with story clarity being an ongoing concern. This sent the show's producers and executives back to the drawing board to bring the best possible "Aquaman" sequel to life. 
The end result is several cuts of the film making their way into the editing process. The magazine declared that the latest set of reshoots, greenlit by James Gunn and Peter Safran, went extremely well. Reportedly, the reshoots only took four days instead of the five scheduled, and seem to have finally gelled the film into what Warner Bros. wants it to be. 
There's no word as to what's been changed in the final cut of the movie, but at least this winter DC fans will finally get to find out what all the fuss was about.